Have you found yourself stuck with old electronic junk from what feels like a million years ago? Maybe you found one of your old broken televisions that you forgot about in the attic, or perhaps you've begun upgrading your office space and have more computer waste than expected. Whatever the case may be, we can help. Not sure what to do or how to properly dispose of your electronics? No worries – leave it up to our electronics removal services in Raleigh, NC!
You won't have to move your electronics. Just show us where it is, and we'll take it as is. Whether it's tucked away in a corner behind a bunch of boxes, up three flights of stairs, on a high shelf, or sitting in plain sight, we'll get it out of your way. We're here to do the hard part for you, which is also why we've made ourselves available in 7 different locations serving communities like Apex, Cary, and Durham, NC!
You don't have to wade into the world of old electronics recycling alone. We take all kinds of electronic junk and trash items, including computers, laptops, printers, TVs, monitors, and just about all other electronics!
We're also happy to handle your appliance recycling needs, including refrigerators, stoves, dishwashers, microwaves, grills, washers, and dryers! Workout equipment, treadmills, and ellipticals can also be taken off your hands with no trouble at all.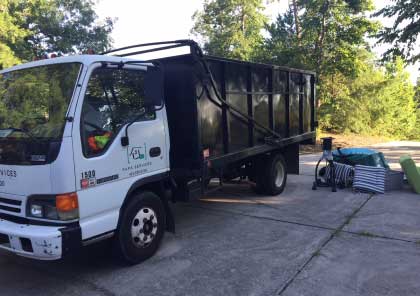 Appliance Removal Made Easy
Every appliance that you own will eventually give out due to one reason or another. When an appliance like a refrigerator finally gives out, if you don't have immediate access to a refrigerator removal service that can remove the old one when your new unit arrives, your space can quickly become crowded with old electronics in need of recycling.
Instead of worrying about how you will personally handle the appliance removal, we can help! We specialize in providing our customers with the proper channels to handle TV recycling, refrigerator removal, and any other electronics removal services in Raleigh, NC, that they may need.
1-888-PIK-IT-UP specializes in helping our customers reclaim the areas in their homes that have become a dumping ground of electronic junk and trash they could not recycle properly. Our electronics removal services in Raleigh, NC, have helped countless homeowners with their junk and have helped people in the following communities:
Apex, NC

Cary, NC

Durham, NC

Garner, NC

Morrisville, NC

Wake Forest, NC

And More!
North Carolina's Choice for Computer Waste Removal
One of the largest slices that make up E-waste comes in the form of personal electronic devices. This type of computer waste consists of old cell phones, laptops, desktops, tablets, and other devices that see yearly updates that render old models obsolete. As people upgrade their technology, those that don't properly dispose of their old tech suddenly have stockpiles of old generation phones and laptops lying around that they don't know what to do with. With our electronics removal services in Raleigh, NC, 1-888-PIK-IT-UP can help!
While we help you handle your TV recycling needs, our team can also pick up and properly dispose of your stockpile of old phones, laptops, and tablets. We ensure that these devices are disposed of properly, so they don't accidentally pollute the environment.
In addition to providing expert electronics removal services in Raleigh, NC, our team helps our customers with the following services:
If you are in the Garner, Morrisville, Wake Forest, NC, area, 1-888-PIK-IT-UP is ready to help with your electronics removal needs! We'll be happy to take care of just about any kind of E-Waste, so you don't have to worry.
Book an appointment with us today!
Mattresses
Sofas
Sleeper Sofas
Dressers
Bookcases
Dining Tables
TV Cabinets
Bikes
China Cabinets
Printers
Refrigerates
Dryers
Air Conditioners
Water Heaters
Lawn Equipment
Padding
Hot Tubs
Box Springs
Love Seats
Bunk Beds
Nightstands
Desks
Kitchen Chairs
Treadmills
Patio Tables
Monitors
Scanners
Dishwashers
Deep Freezers
Grills
Play Sets
Flooring
Yard Debris
Decking
Bed Frames & Rails
Recliners
Trundle Beds
Wardrobes
Office Chairs
Living Room Chairs
Ellipticals
Patio Chairs
TVs
Monitors
Washing Machines
Stoves
Microwaves
Doors
Carpet
Storage Buildings
Fencing
Fast, Dependable, and affordable
If you're ready for the best junk removal service around, call our team before anyone else. Call us today and save more!